3 days in Phnom Penh, the capital of Cambodia, is the perfect amount of time to learn about the countries history and culture. Often seen as a stopover point, most visitors only touch down en route to Siem Reap, and then only often for a day. We want to show you why you should stay longer.
Why you should spend more than a day in Phnom Penh
At very first glance, it's not hard to see why people only spend a day in the Cambodian capital. Compared to sleepy riverside Battambang or tourist-friendly Siem Reap, Phnom Penh doesn't immediately greet you warmly. Sure, the legendary Khmer hospitality is still alive and well – but as with many capitals, Phnom Penh (at surface level) is busy, dirty and somewhat industrial looking.
Like many things in life, however, you will be richly rewarded during a visit to Phnom Penh if you put in a little bit of work. Take a deep breath and dive in – you'll soon find out this capital has a wealth of cultural, historic and foodie hotspots – all without crowds of tourists.
With a little more time, Phnom Penh's gritty façade will all but fade away, and I'm confident you'll love the city just like we did. It will give you a chance to come face-to-face with the real modern Cambodia – a place where hope is woven with sadness, where colourful markets are nestled amongst grey skyscrapers, and where the warmth of the Cambodian people shines through.
All prices listed in this post are in USD, which is the main currency in Cambodia.
This post may contain affiliate links. If you book via these links, we may make a small commission at no extra cost to you.
Getting around Phnom Penh
Transport in Phnom Penh is quite an adventure. One of the first things you're likely to notice about the city is the apparent lack of road rules – the streets are a circus of pedestrians, motorbikes, tuk-tuks and cars. Even crossing the road successfully can feel like an achievement!
The easiest way to get around for short journeys is either to walk or to go by tuk-tuk. For those unfamiliar, a tuk-tuk is a small carriage-like setup pulled behind a motorbike. They're common throughout Cambodia, very affordable, and always a fun way to get around. Just be sure to confirm the price for your journey before you take off to avoid any arguments later.
For longer journeys or if you prefer to ride in a little more style, there are taxis. The best way to make sure you're hiring a reputable taxi company is to ask your hotel or guesthouse to call it for you.
One tip – even if you see motorbikes for hire in Phnom Penh, it's usually not a good idea. It is illegal under Cambodian law for foreign visitors to ride them (even with a licence), so even if you can hire one – it will invalidate your travel insurance. Best to let someone else navigate the streets of Phnom Penh so you can enjoy the sights hassle-free!
Check out our guide on planning a trip to Cambodia for helpful advice on visiting this amazing country.
The best things to see in Phnom Penh
We spent five days here all up and did not feel like it was too long; however, with only a few days up your sleeve, you can cover a lot of ground in Phnom Penh. The people-watching is excellent, so be sure to leave time to sit back and watch the city at work.
Royal Palace and Silver Pagoda
Officially Wat Preah Keo, and also known as the 'Temple of the Emerald Buddha", the Royal Palace and Silver Pagoda are hands down the most impressive buildings in Phnom Penh.
As the name suggests, these buildings were once home to Cambodia's royal family – although they no longer live there.
This is one of the only temples to survive the Khmer Rouge, and despite significant pillaging by the Vietnamese after the war, The opulence of the palace and the pagoda is simply staggering. Think a seemingly endless display of rooms covered in gold, beautiful paintings and precious stones. It can be a little jarring to step inside this place from the gritty streets, but it's unmissable.
What is the dress code to enter the Royal Palace?
There is a strict dress code at the Palace. All visitors must cover then knees and shoulders. There are no exceptions; they checked the length of Charlie's shorts before requesting he worn a sarong.
Where: Samdach Sothearos Blvd (3), Phnom Penh, Cambodia
When: 8-10:30am – 2-5:00pm
Cost: $7 for entry and $10 for a guide (highly recommended). It is an extra $7 for the Silver Pagoda.
Book a tour instead: A visit is covered in the half-day Royal Palace, National Museum and Wat Phnom tour, which takes you to the three major sights in Phnom Penh
Wat Phnom
Buddhism is a big part of life for many Cambodians, and those who live in the capital are no exception. Arguably the most impressive wat is Wat Phnom. It's located up a hilltop about 27 metres above the ground.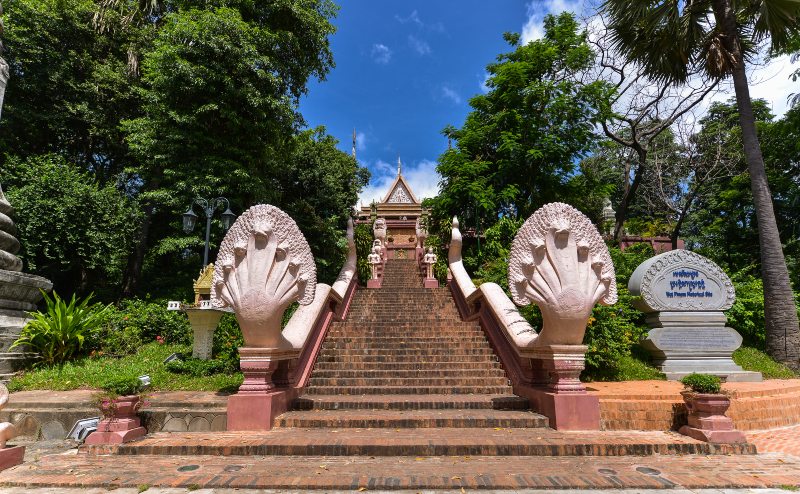 This means it's a bit of a hike to get up there, but once you do – you'll have a beautiful view out over the landscape. The wat is also very pretty, and locals believe that it dates back to the 14th century – making it one of the oldest buildings in Phnom Penh.
Where: Street 96 Norodom Blvd, Phnom Penh, Cambodia
When: 8am-6pm
Cost: $1
S 21 – Tuol Sleng Genocide Museum
One of the most unmissable "attractions" in Phnom Penh is Tuol Sleng, also known as S-21 or the Genocide Museum. Inside this high school-turned-prison, over 14,000 Cambodian people were ruthlessly executed by the evil Khmer Rouge regime. Just seven people made it out alive, and several of them act as tour guides at the museum.
It's hard to describe the feeling of walking through this place, knowing the tragedy that occurred it not that long ago. It's not a glitzy museum but rather an authentic memorial, having been left largely as it was the day the Khmer Rouge finally fled it. It's an incredibly sombre and moving place, but one that is vital to appreciate the scale of the tragedy of the Khmer Rouge.
Where: St 113, Phnom Penh 12304, Cambodia
When: Daily: 07:00am– 17:30pm
Cost: $3 entry, $3 audio guide, $6 guide
Choeng Ek/The Killing Fields
The other primary Khmer Rouge-related site is The Killing Fields, where thousands of men, women and children lost their lives and were buried in mass graves. The site is marked by a large memorial stupa, which contains the skulls of many of the victims of the notorious regime.
Like Tuol Sleng, walking around the Killing Fields is a deeply haunting and moving experience. We'd recommend making a visit to these two places the only activities for the day – we needed a few hours to process all I'd seen.
It's worth noting that these sites are probably not suitable for young children. They can be very confronting; however, we believe it's important not to gloss over the darkest chapters of Cambodia's history.
Where: St 113, Phnom Penh 12304, Cambodia
When: Daily: 07:00am – 17:30pm
Cost: $3 entry, $3 audio guide, $6 guide
How do I get to the Killing Fields/Tuol Sleng?
You can grab any tuk-tuk and pay a day rate of about $25-30 that will give you the freedom to take as long as you like or negotiate for each trip.
Book a tour instead: There are a couple of half Day Tour of Tuol Sleng and Choeng Ek Killing Field that might appeal if you would like to arrange a private guide and prefer transport in a vehicle rather than a tuk-tuk. This is advisable if you don't fancy the hot and sometimes dusty 40 minute trip to the site by tuk-tuk.
The option we recommend is the Killing Fields and S21 Hop on Hop off shuttle tour. It is very reasonably priced, and during the trip out, there is a commentary that gives a good background of the sites. Check the details and current price here.
Mekong Boat Trip
The capital sits on the banks of the Mekong, a 2,700-kilometre river that is so wide that it looks like an ocean in parts. It's an unmissable sight in the city.
Therefore one of the best things to do in Phnom Penh is to take a boat trip down it. It's such a relaxing way to take in a different view of the city, and many boat trips also include some food and drinks.
We took the Le Tonlé for a sunset dinner cruise. It's a little different to most on offer in that you sail around on the smaller boat and transfer to a floating restaurant for your dinner.
Other cruise options we have heard many good things about is Cambo Cruises. They offer a 2-hour sunset dinner cruise with the bonus of live music on board. They offer an all you can eat meal, either buffet style or served al la carte if a small number of guests.
Sisowath Quay
Another way to take in the beautiful Mekong is to head for the bustling Sisowath Quay area. This is Phnom Penh's premier tourist quarter, with a few glitzy hotels and lots of great restaurants, cafes, shops and bars. It's also a short walk from the Royal Palace and Silver Pagoda.
This is one of the best places for nightlife in Phnom Penh, so if you want a laidback cocktail or even to do some dancing – this is the place to go! Similarly, it's a bit of a shopper's paradise, with lots of little boutiques and stalls, or you can just sip a coffee and look out over the Mekong.
Discover the street art
Phnom Penh isn't the first city that pops into your mind when you mention street art. However, the city is home to a burgeoning street art scene that's raw, political and uber cool. Free from pretence, Cambodian street artists can let their creativity soar.
The city isn't covered in street art, so if you're interested in checking it out, I recommend visiting some of the key areas. In particular, Lakeside's Street 93 is well known for its colourful murals. As the neighbourhood is pretty ramshackle, it's even more poignant and has a serious cool factor. Discover it before the crowds (or the developers) do!
We took a 2-hour tour with Tony, a local who knows a lot about the street art scene in the city. I highly recommend this as it is not that easy to find the best work and we felt more accepted in some of these small alleys with a local.
Where: Lakeside's Street 93
More: Find Tony on Facebook. He also does market tours
Watch a shadow puppet show
These aren't just for children! Shadow puppets have been a cultural art in Cambodia for hundreds of years, even before the Angkor Empire. Many of the shows focus on telling stories about local heroes or on social values.
There are several places in Phnom Penh where you can watch a puppet show. Be sure to look closely (if you can – they move really fast) at the intricate details. Each puppet is hand-carved, and it can take hours and hours to finish one.
Two popular places to see a show are at the Sovannaphum Theatre and Cambodian Living Arts.
Thinking about some beach time in Cambodia? We share our thoughts on Sihanoukville to help you decide.
Where are the best places for shopping in Phnom Penh?
Phnom Penh Markets
You can't leave Phnom Penh without indulging in a bit of retail therapy at one of the city's many great markets. They're a bit of a hodgepodge of different stalls selling everything from knock-off cosmetics to homewares and fresh produce, but they are well worth a look.
As with most markets in South East Asia, don't be afraid to haggle the price down!
Central Market
Central Market, officially known as Phsar Thmey, which translates as "new market", is housed in one of the cities most distinctive buildings. The art deco beauty opened in 1937 has a central dome and four arms of stalls. It is the largest market in Phnom Penh and apparently the largest dome in Asia.
The outside of the market is full of souvenir stalls, perfect for gift shopping. The middle of the dome is home to jewellery and watch booths. Along the edges, you will find plenty of fresh food and barbeque goodies.
Even if you are not into shopping, this market is worth a look at. Head there early in the day to beat the heat; it gets pretty stuffy.
Where: Calmette St. 53, Phnom Penh 55555, Cambodia
When: 6:30 am to 5:30 pm daily
Russian Market
There's also the Russian Market (Phsar Toul Tom Poung), which got its name due to its popularity with Russian ex-pats in the 1980s. It's more of a mixed bag, but still, a fun place to visit.
It feels like a rabbit warren, and it's still very touristy, but we enjoyed the fresh food stalls here. It felt a tiny bit more real than the Central Market.
Where: Corner of Street 163 and Street 444, Phnom Penh, Cambodia
When: 6.30am -5pm (mornings are best)
Phnom Penh Night Market
The night market (Phsar Reatrey) has the best location just back from the waterfront. It is very popular with young locals, and live entertainment and food stalls keep people hanging around even if they are not shopping.

There is a local market across the road that you may enjoy a stroll through if you have not visited the Russian Market.
Where: Sisowath /Quay, Phnom Penh, Cambodia
When: 5:00 pm – 11:00 pm Saturday and Sunday.
How can I "make a difference"?
Try delicious Khmer food at a social enterprise
Cambodian food might not be as well-known as its neighbour, Thailand – but it is just as delicious! Some local dishes include beef Lok Lak (made with yummy local Kampot pepper) and the creamy and delicious fish amok curry.
To enjoy Cambodian food cooked with love, we recommend seeking out a social enterprise. These places help support vulnerable people in Cambodia and help them learn new skills and earn a wage. There are quite a few of these to choose from. We visited several, including Romdeng, which we have listed below.
Daughters of Cambodia Visitor Centre
Daughters of Cambodia is a training centre, shop, cafe and more. They support sex workers and victims of human trafficking move into other employment areas and onto new lives.

Wander through the retail space before heading up to the cafe with its views of the Mekong. The menu features salads, western-style lunches and some delicious ice cream. We also really enjoyed the coffee here.
If you fancy a mani/pedi, there is also a nail bar – all spotless and welcoming.
Where: 321 Preah Sisowath Quay, Phnom Penh (near the Palace)
When: 9am – 5:30pm
Friends 'n' Stuff
We came across Friends and Stuff while trying to avoid a rainstorm while walking home.
Located next to Friends Restaurants, which is also worth a look, the shop has many unique locally made items. I bought a crossbody bag made from recycled motorbike tyres. It's a great place to pick up souvenirs and gifts.
Where: 215, Steet 13, Phnom Penh
When: 11am-9pm
More: Check their website
Choosing where to stay in Phnom Penh
If it is your first visit to the city, we recommend staying near the Royal Palace. From here, you are well placed to walk to many of Phnom Penh key sites, and there are lots of dining and drinking options within walking distance.
We also felt safe in most of these streets, even at night.
Blue Lime
We spent three nights at Blue Lime, a 3.5-star hotel just a few minutes walk from the National Museum and riverfront.

When we arrived, our taxi dropped us at the end of a nondescript laneway, and I immediately wondered if I had booked a lemon. As soon as I saw the large open reception area and the friendly staff waiting for us, I breathed a sigh of relief.

We booked one of the four private pool rooms, and it soon became our oasis in the city. Once you were inside the grounds, you felt miles away from the city's hustle and bustle.

The complimentary breakfast featured fantastic fresh fruit and delicious pastries along with eggs and other dishes. Evening happy hour along with its free chilli nuts was fabulous, especially when afternoon rainstorms hit.
Where: 19 No. 42, Street 19z ( off to Street Off Street 19, Near National Museum, Phnom Penh
Facilities: Outdoor pool, bar, private pool rooms, no children under 15 years.

Check the latest reviews on Tripadvisor or compare prices at Hotels Combined.
Pavilion Hotel Phnom Penh
We only had a one night stay at Pavilion, sadly as it was a place I could have quickly got used to calling home. The hotel is made up of several properties that are joined by gardens and pool areas. The main area is a Khmer/French Colonial villa built in the 1920s for King Norodom Sihanouk's mother, Queen Kossamak.
From the minute we arrived at Pavilion, we felt enveloped in something special. Again we had chosen a private pool room, and while the outdoor area was more spacious than Blue Lime and the room had better quality finishes and furnishings, it was a lot more expensive. If the price is a consideration, I would probably return to Blue Lime. If you are not on a budget, then book this.
Where: 19 227, Street Khan Daun Penh, Phnom Penh
Facilities: two outdoor pools, 2 bars, spa, private pool rooms, no children under 16years.

Check the latest reviews on Tripadvisor or compare prices at Hotels Combined.
Floatation
We booked one night at Floatation on our way back to Sydney after our Cambodian explorations were complete. It was a special birthday treat and included dinner, drinks and overnight accommodation in a private floating bungalow.

The bungalows sit on the bank opposite the Royal Palace. At the time we visited there was only one, but there are now four available for booking. We picked it up at a bargain US$90 for the night, and what a memorable night it was.

Watching the sunset across the city and the fishing boats head out for the night was great entertainment.

The huge, very comfortable bed, which rocked slightly with the rivers flow, gave us our best nights sleep in weeks.
At dawn, we watched the fisherman return to their village, right behind the bungalow, to process their catch. I highly recommend this experience!
Where: Arexat, across the Mekong, in front of Phnom Penh's Royal Palace
Facilities: sizeable airconditioned room, complimentary breakfast, guard stayed on site all night.

Check the latest reviews on TripAdvisor or compare prices at Hotels Combined.
Penh House
This is a brand new hotel, but it made my shortlist for our next visit as soon as I saw the excellent rooftop infinity pool on my friends Facebook page.

The rooftop area provides fantastic views over the city, and your complimentary breakfast is served here too.

A larger hotel than the ones above, Penh House also offers a smaller boutique villa property with "jungle" rooms and gardens.
Where: 34a, Street 240 #70, Street 244, Phnom Penh
Facilities: large rooms, king-size beds, air conditioning, rooftop pool, complimentary breakfast, suitable for kids.

Check the latest reviews on TripAdvisor or compare prices at Hotels Combined.
Where to eat and drink in Phnom Penh
Where are some good places to eat in Phnom Penh?
We mainly ate in social enterprise restaurants and cafes near to the Royal Palace. Below are our favourites.
Romdeng
We read about Romdeng before we arrived in Cambodia and had decided this would be where we challenged ourselves with trying some confronting foods. The restaurant is one of seven social enterprise businesses in Cambodia owned by the TREE organisation. Their goal is to provide creative local cuisine cooked (and served) by young people training to be hospitality superstars.
It was also where our love affair with local favourite Fish Amok began. Amok is a sauce made with lemongrass and lime leaves, fish sauce, palm sugar, turmeric paste, chillies and coconut milk. We ordered this dish everywhere we went in our month-long visit, and this version was in the top three we tried.

Dinner here is a bit of a splurge by local standards, but the level of service and beautiful colonial decor made it special. We enjoyed dinner here and felt the organisation was one we could support.
Where: 74 Street 174, Phnom Penh, Cambodia
When: 11am – 11pm
Artillery Arts Cafe
We loved this cafe, headed there for the coffee but found the menu had such a good range of options we went back a couple of times. An excellent choice for vegans and vegetarians.
If you have any special dining needs, this place could be your savour. They cater for gluten-free, paleo, raw, vegan and nut-free and even autoimmune protocol. The range of breakfast items was excellent and
Where: St 244, Phnom Penh, Cambodia
When: 7:30am-9pm
More: check their website
Le Moon Rooftop Bar
The modern rooftop bar offers 270-degree views of Phnom Penh city and the Mekong River. We had some nibbles and wine while we watched the sunset. Nice ambience and well worth a visit.
Where: 54 Dekcho Damdin St. (154), Phnom Penh
When: 5pm-1am
Our final tips for spending 3 days in Phnom Penh
Although a few larger places accept credit cards, cash is still the easiest way to pay for things in Phnom Penh. US Dollars are used, and it's best to carry small notes ($1, $5 and $10) to avoid any disputes about change!
Dress fairly conservatively, especially if you are visiting significant sites like the Royal Palace, Wat Phnom or Killing Fields. It's best to cover up your shoulders and knees, as you may be turned away at the door otherwise.
While visiting Phnom Penh, it's common to see people living in poverty and be moved to want to help. The best way to do so is through reputable NGOs, rather than by giving money directly to street children. You'll find many great ones.
Blood donations are also a positive way to help. The Children's Hospital in Siem Reap is a good place to donate.
Pick up your sim card at the airport. They are very cheap and access was great over our whole visit.
Save our guide to 3 days in Phnom Penh on Pinterest.
Have a question about something here? Want advice for planning your visit? Head to our Facebook page and we will do our best to help.